Written by Marco Carvajal
2021 Arteon 2.0 T SEL R-Line 4MOTION
Driving the beautiful new Arteon makes you feel smart, elegant, rich, and famous.
I am test driving the top of the line trim model, 2.0T SEL R-Line with 4MOTION (all wheel drive) and there is nothing missing on this car configuration and features. Volkswagen made an amazing work of art designing the first Arteon a few of years ago and redesigned new models like the 2021 Arteon I am driving are just amazing.
The Arteon is a sleek coupe-like design sedan that replaces the previous Volkswagen CC sedan and now the new 2021 model includes more Passat-based design elements.  The name "Arteon" not only sounds better than the previous model name "CC", it also drives and feels better inside and outside.
The Volkswagen Arteon is a new luxury mid-size five-door premium sedan. It was unveiled on March 6, 2017 at the Geneva Motor Show and release in the U.S. with the 2019 model.
Volkswagen is becoming very successful in the United States market, aggressive grow with several new models like the Atlas SUV, the redesigned Tiguan crossover, the electric ID.4 and other new car models keep expanding VW lineup and offering very appealing options to car buyers.
The new Arteon sedan is a model that has been born at a time where SUVs are taking over the sedan market, but Volkswagen's marketing strategy to release a new sedan during this time can easily fill a gap of luxury sedans, as most car makers are producing less sedans and more SUVs.  For those who want a premium sedan the Arteon is a great choice.
2021 Volkswagen Arteon
The new Arteon has a sleek design, aggressive R-Line Style, classic fastback and Aerodynamic design. The new Arteon, follows the Passat line adding a more luxurious design, with sporty and premium design.
The luxurious Arteon has the luxury style and high performance level typical of a luxury European Gran Turismo sedan, with a lower ticket price compared to other luxury brands. Priced from 36K to 46K.
Updated design Volkswagen Arteon 2021
The Volkswagen Arteon has been updated and significantly modernized in 2021. In the 2021 car, the exterior design has changed and the interior has been improved.
The new Arteon comes with a new global update as the 2021 model year has been redesigned based on the legendary Passat, featuring a new elegant body design, roomy interior and improved driving performance. Volkswagen's new goal is to produce an Arteon that appeals to drivers of all ages who value elegance, comfort and safety.
With the restyling of the Volkswagen Arteon 2021, the new sedan has significant changes that affected the exterior appearance and interior design, onboard equipment and technical specifications.
The exterior of the new Arteon sedan has become bright and more original with more elegance and sportiness into the body redesign.
The Arteon is the successor of the Volkswagen CC and now includes more elements of the Passat too, but it is bolder, faster and premium-looking.  The Volkswagen CC, was originally known as the Volkswagen Passat CC in its first generation. The CC was a four-door sedan version of the Volkswagen Passat with a stylized swept roofline, reducing rear space and cargo space producing an elegant sporty look.
The name CC referred to Comfort Coupé, despite not being a coupé due to the body design having four doors. The CC was wider than the Passat, making it more executive-oriented looking. There is no more CC sedan available, it has been replaced by the new Arteon, with a larger, curvy and more elegant body design.
Performance
The Arteon maintains the four-door coupe profile of the CC and offers a range of great turbo engines coupled with automatic transmissions with double clutch and the smart and advanced 4Motion all-wheel drive in some models.
Arteon's high-end trim SEL R-Line includes a 300 horsepower turbocharged engine with a 2-liter engine with standard eight-speed automatic transmission and four-wheel drive.
The engine of the Arteon is an SEL R-Line 2.0L Turbo 7-speed DSG automatic transmission with Tiptronic and Sport mode
Arteon, R-Line trims adds a sportier appearance  and powerful performance with a 300-horsepower engine that generates 295-ft of torque
The Arteon new look includes a wider posture, frameless windows, double trapeze shaped exhaust tips, and a wide chrome grille.
Standard security features include a rear view camera, blind spot monitoring, emergency braking, and rear traffic alert.  A great feature is the automatic post-crash braking, among many advanced features and technology.
Trims and Pricing for the 2021 Arteon
The 2021 Volkswagen Arteon is available in three trim levels: SE, SEL R-Line and SEL Premium R-Line.
Considering the Arteon is a luxury premium sedan, pricing from 36K to 46K can be low when compared with other premium sedan rivals.
Each one of the three available trim levels is premium. The base model SE is a great car to buy, the SEL R-Line I am test driving is just amazing with 4Motion included. The top of the line SEL Premium R-line will give you everything you want in your Arteon.
SEL R-LINE
$41,595

Starting MSRP

SEL PREMIUM R-LINE
$46,995 

Starting MSRP
The 2021 Arteon features a sophisticated front end with sharpened design cues. The cockpit has also been redesigned with updated decor and technology. The Volkswagen Digital Cockpit is now standard, as is the all-new MIB3 infotainment system with updated navigation and wireless App-Connect.
Updates to the R-Line models include an illuminated light bar on the front grille and translucent decor with 30-color interior lighting, as well as wireless charging and improved driver assistance technology.
Three new colors have been added for the 2021 model year – Kings Red Metallic, Oryx White Pearl and Lapiz Blue Metallic, with the latter two exclusive to R-Line models.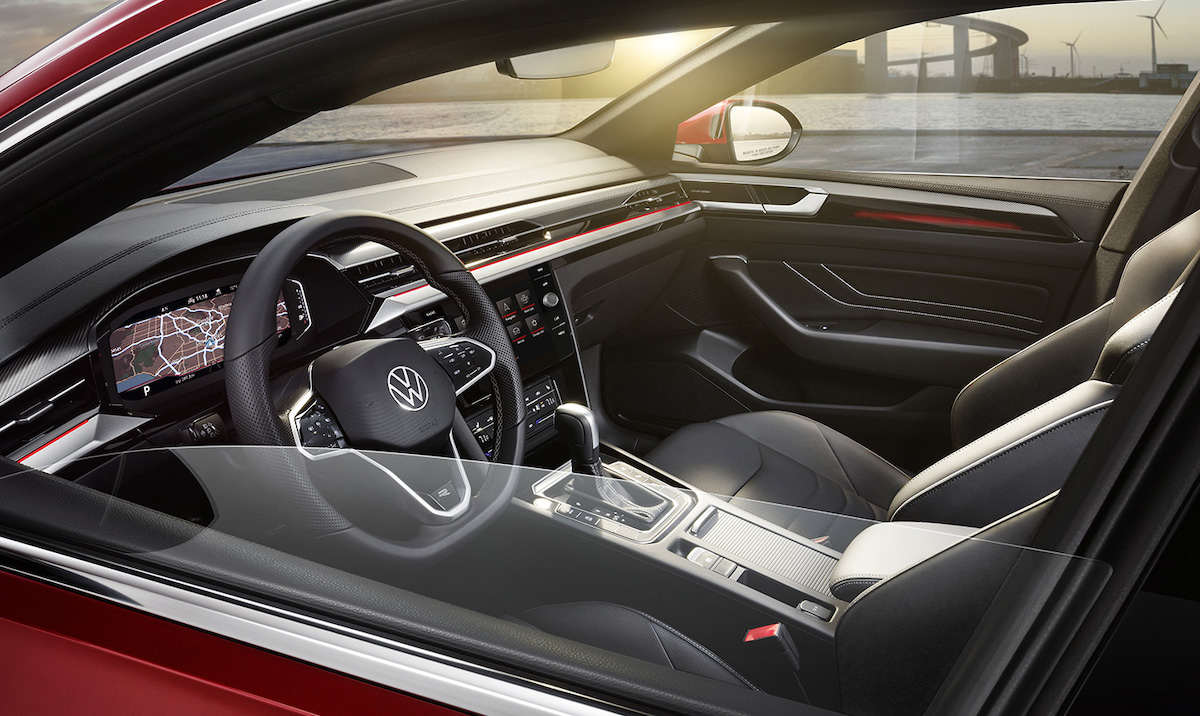 2021 Arteon Highlights
Available Harman Kardon premium sound system
Engine SEL R-Line 2.0L Turbo 7-speed DSG automatic transmission with Tiptronic and Sport mode
300 horsepower
Three-month Platinum Plan⁠ trial subscription
Discover Media touchscreen smart navigation system with 8″ color display, proximity sensor, AM/FM/HD radio, and voice control
Volkswagen Digital Cockpit
Four-door keyless access
Available remote start
Wireless charging for compatible phones
App-Connect

Apple CarPlay

Android Auto

Driver Assistance features

Volkswagen

 Car-Net
Available 4MOTION all-wheel drive

DCC adaptive chassis control

XDS Cross Differential System
Real View Camera System

Intelligent Crash Response System 

Automatic Post-Collision Braking System
Tire Pressure Monitoring System
Electronic Brake-pressure Distribution
Electronic Stability Control
Arteon includes Volkswagen's People First Warranty
The Arteon includes Volkswagen's People First Warranty, Bumper-to-Bumper New Vehicle Limited Warranty.  This great long warranty provides coverage for six-years or 72,000-miles (whichever occurs first).
Volkswagen Arteon warranty is transferable to subsequent owners throughout the remainder of its duration. If you sell your car before the warranty expires, the warranty transfers to the new owner of the vehicle.  Many other car warranties are non-transferable, this is a great bonus from Volkswagen.
The medium-sized sedan segment still has many competitors, including the Toyota Camry that remains a best seller. The Arteon is a great choice for luxury sedan car drivers who want to pay less than $50K.
Arteon's coupe-like design, safety features, and the new powertrain is very appealing and can be very successful with the right market penetration.
For many drivers who still don't know the Arteon, I suggest to take it for a test drive. Feel the elegance and premium taste that comes with this great sedan.
The post Arteon is Volkswagen's Luxury Sedan with 4MOTION appeared first on AutomotorPro.com.